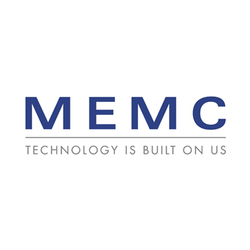 Manufacturing Technician
Saint Peters, MO
MEMC LLC is now hiring Manufacturing Technicians.
The starting pay rate is $13.45/hr, plus 10% for night premium.
Compensation & Benefits
MEMC LLC is leading the semiconductor industry with a strong environment that allows you to innovate, expand your potential, and own your future. This environment encourages positive thinking, integrity, and a "together as a team we win" attitude. In addition to providing a climate for professional growth, MEMC offers competitive salary, a comprehensive benefits program, and a company-matched 401(k) savings plan.
Essential Job Functions
As a Manufacturing Technician you will perform functions associated with all manufacturing operations, including:
• Working with engineers in set-up and calibration tasks
• Performing rework and quality testing related to the production of parts, components, subassemblies, and final assemblies.
• Using sophisticated programs to collect and evaluate operating data to conduct on-line adjustments to products, instruments, or equipment.
• Determining and assisting in developing methods and procedures to control or modify the manufacturing process, as well as working with engineers in conducting experiments.
Education & Experience
• High school diploma or equivalent required; associate's degree in a relevant field of study or equivalent preferred.
• Up to 1 year of related experience required, 1+ years preferred.
Knowledge, Skills, and Abilities
• Demonstrate knowledge and expertise in the area of production and production support.
• Display initiative and accept responsibility for your own actions to get the job done under direct supervision. Complete assigned tasks in a timely manner.
• Effectively utilize available and relevant technical tools and resources (e.g., Microsoft Office, other software or hardware, manufacturing systems and equipment, etc.).
• Possess excellent verbal and written communication skills. You must be able to explain general job-related information to your supervisor, coworkers, and possibly others.
• Perform assigned tasks with reliability, honesty and discretion.
• Must be able to walk and stand on feet without assistance for long periods of time.
• Must be comfortable wearing clean room suit which covers the entire body from head to toe.
• Minimal lifting (<25 lbs) may be required.
Reasonable accommodations may be made to enable individuals with disabilities to perform essential functions.
Work Environment
• This role takes place in a cleanroom/lab environment.
At MEMC, we are looking for talented self-starters with imagination, creativity and vision. In addition, we are seeking individuals who are original thinkers, possess the drive to achieve quick results, and have the capacity to assume increasing responsibility in a highly successful global organization. Ideally you will have a passion for the industry and desire to be part of a team with goals to change the way the world's technology is produced and utilized. Apply now!
MEMC LLC is an Equal Opportunity/Affirmative Action employer. All qualified applicants will receive consideration for employment without regard to sex, race, color, religion, national origin, age, marital status, political affiliation, sexual orientation, gender identity, genetic information, disability or protected veteran status. We are committed to providing a workplace free of any discrimination or harassment.
7061721