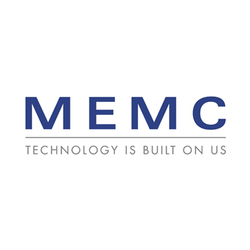 Utility Facilities Engineer
Saint Peters, MO
MEMC LLC is now hiring a Utility Facilities Engineer.
Compensation & Benefits
MEMC LLC is leading the semiconductor industry with a strong environment that allows you to innovate, expand your potential, and own your future. This environment encourages positive thinking, integrity, and a "together as a team we win" attitude. In addition to providing a climate for professional growth, MEMC offers competitive salary, a comprehensive benefits program, and a company-matched 401(k) savings plan.
Essential Job Functions
• Maintain and improve the reliability of the site facilities and utilities electrical systems, including 13,200V, 4,160V and 480V electrical distribution networks; transformers, switches, circuit breakers and control instrumentation; emergency power systems such as uninterruptible power supplies, emergency generators, transfer switches, and associated control networks.
• Maintain a working knowledge of the NEC, NFPA 70E, and other technical codes.
• Develop and document electrical system improvements, including projects related to reliable power operations and electrical energy savings.
• Establish and track electrical system metrics. Additional electrical systems will include Fire alarm system, CCTV system, and Access security system.
• Oversee external contractors in accordance with site standards.
• Provide electrical engineering support to manufacturing.
• Help train maintenance employees for the operation, troubleshooting, and repair of equipment.
• Create Preventive Maintenance procedures.
• Coordinate with architecture/engineering firms in developing electrical design criteria and review design costs.
• Inspect construction and installation progress for conformance to established drawings, specifications, and schedules.
Experience & Education
• Electrical engineering degree required
• Hands-on experience with maintaining, testing, and operating low and medium voltage switchgear equipment required
• Experience leading, training, or teaching others preferred
• Examples of working with technicians to solve problems and projects required
Knowledge, Skills and Abilities
• Knowledge of PLC programming, fan, pump and motor systems, infrared testing preferred
• Project management knowledge
• Demonstrated ability to analyze data and make improvements preferred
• Electrical system design ability
• Problem solving skills
• Ability to walk and stand 4-5 hours per day
• Must be able to limb ladders, reach overhead, and lift 35 lbs
• Must be collaborative, encourage a participative process, and work well within a team
Work Environment
• Work areas include office, electrical substations, maintenance shops, roofs, and other utility support areas.
Work Authorization
MEMC LLC will only employ those who are legally authorized to work in the United States.
• This is not a position for which sponsorship will be provided.
• Individuals with temporary visas such as E, F-1, H-1, H-2, L, B, J, or TN or who need sponsorship for work authorization now or in the future, are not eligible for hire.
Reasonable accommodations may be made to enable individuals with disabilities to perform essential functions.
At MEMC, we are looking for talented self-starters with imagination, creativity and vision. In addition, we are seeking individuals who are original thinkers, possess the drive to achieve quick results, and have the capacity to assume increasing responsibility in a highly successful global organization. Ideally you will have a passion for the industry and desire to be part of a team with goals to change the way the world's technology is produced and utilized. Apply now!
MEMC LLC is an Equal Opportunity/Affirmative Action employer. All qualified applicants will receive consideration for employment without regard to sex, race, color, religion, national origin, age, marital status, political affiliation, sexual orientation, gender identity, genetic information, disability or protected veteran status. We are committed to providing a workplace free of any discrimination or harassment.
7061722